The Southwest – To the Deserts
The Southwest – To the Deserts
We took the CalTrain back to the airport the next day, and headed southeast, almost exactly retracing our steps of the day before. We flew across the valley above a low carpet of overcast, with the hills poking up through it at either side. Our first destination for the day was Mojave Air and Spaceport; how could one fly past a spaceport and not stop for a look? As we settled onto final approach, the Virgin Galactic launch vehicle (White Knight II) could be seen taxiing across the airport, for engine tests as it turned out; they had hoped to fly, but it was too windy for them.
We parked up near the Scaled Composites hangar and had lunch, before taking an airfield tour; just the two of us and a guide, in a minibus. Cameras were not allowed, sadly. We toured the apron area, seeing a number of fast jets parked up being modified by a local contractor, before crossing the airfield to drive around the aircraft graveyard. They had everything from small piston aircraft to 747s, abandoned in the desert, some of them being cut up for parts or scrap by a salvage company. With the tour over, it was getting close to the end of the day, so we took off for our short flight to the night's camp-ground; Furnace Creek, in Death Valley.
We were met on arrival at the airstrip in Furnace Creek by a National Park employee. He pointed out another Cessna to us, a 172 parked up at the edge of the apron, and told us about how it had not been tied down properly and was flipped upside down recently by the wind. We tied our 182 down very securely indeed, before loading up with gear and walking the 1/2 mile to the campsite.
Even in October, it was hot here! We found an unclaimed camping spot, and ended up actually pitching our tent inside a large bush to be out of the wind. It was very comfortable, although very hot; thankfully it cooled down to be just about bearable by the time it came to sleep. We cooked dinner on our little stove watching the sunset over the mountains, and could even hear what sounded like coyotes in the distance. It was ok, though; they'd never find us in our bush.
---
It was a hot nights sleep, but we were well rested and after a quick tour of the park visitor centre the next morning we returned to the aircraft. As we were loading up, a park employee came over to us and asked us to wait before departing; the air ambulance was coming in to pick up an injured visitor. We watched the helicopter arrive, and an ambulance quickly transferred the patient.
As we took off and climbed out, we could still hear the helicopter on frequency as it flew off ahead of us towards the hospital. We were bound for Payson, Arizona, where the airport had a campsite on the field for visiting pilots. How could we resist!
There was a strong breeze, and the gusty cross-wind shook us around as we landed, but it was still passable; lucky, considering that 30 or so people were watching us from the cafe that overlooked the airport.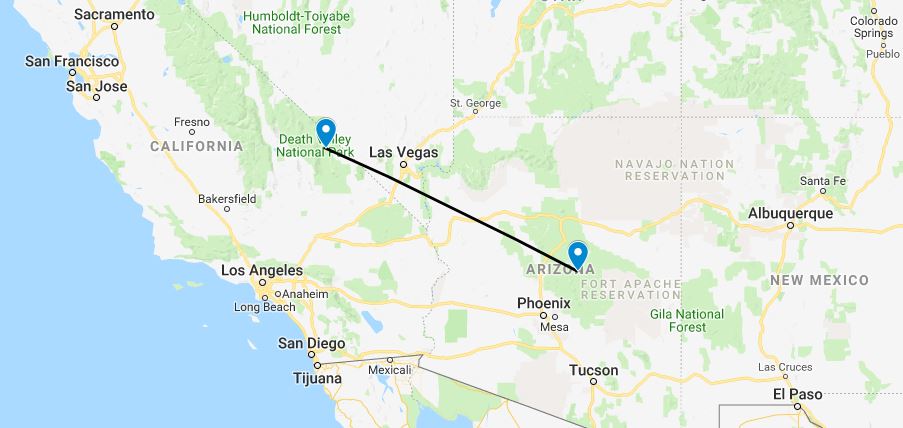 As we parked up, the airport manager drove over to see us. He was called Dave, and was a very friendly ex-landscape gardener who had changed career. He asked us to move the aircraft over to another part of the apron as the city would be there soon to seal cracks in the tarmac. He showed us around the camp site, which was extremely well equipped with purpose-built tent pads and a building with hot showers and toilets. We went to eat lunch in the aviation themed cafe, but not before Dave had arranged to meet us afterwards and drive us into town to the shops! On our return we met another pilot who had flown in; he was Michael, a German who was training for his Commercial Pilots Licence. He was currently an air steward, but had been offered a flying job by a friend of his in Kenya, and so was hurrying to obtain his qualifications.
That evening we joined Michael and Dave at Michael's camp site for a barbecue. Michael told us a lot about his proposed job in Africa, which sounded fantastic, and Dave told us stories of his family, and his old job in gardening. Apparently airport manager was a significant pay cut, but he loved the life style. He spoke as well about summertime fishing trips to Alaska, and was interested to hear from us about why it was that the sun shone all day there in summer! We made our way back to the tent and turned in; the night was uneventful but for discovering a spider in the shower block that was the size of my outstretched hand!
---
The next morning Michael left early, on his way back to the flight school in Colorado that he was training with. Dave presented Hannah and I each with a "Payson Brain"; geodes about 2-3 inches in diameter.
Our first destination of the day was Sedona, an airport perched on top of a dramatic mesa in Arizona. We went there mainly for the scenery, which was stunning, but also to buy a VFR chart of the Grand Canyon; you need a special, 1:250,000 chart that is different from the normal sectionals and shows the approved flight corridors over the national park. Unfortunately, Sedona did not have any charts left so after a short break we set off for a short flight north to Flagstaff.
This time we were in luck, and we bought the chart as well as new gel ear-seals for Hannah's headset; apparently the noise attenuation was dramatically improved! We spent a while playing with the FBO cat and set off on our main flight of the day; over the Grand Canyon to Moab, Utah.
We flew North through the Dragon Corridor, the same route as we'd taken in 2007, but in the opposite direction. Last time the weather had been perfectly clear but on this occasion we were flying over a broken layer of fluffy cloud. Luckily, the cloud was most accommodating and broke up slightly as we passed over the canyon itself, offering dramatic views of the river.
We then flew northeast up Lake Powell and along the Colorado river towards Moab. Approaching the airport (known as Canyonlands) we passed over Canyonlands national park, and also a Uranium mine and salt production facility; salty water was spread out in evaporation ponds being dried for collection.
On landing we parked up and organised two rental cars; one normal car for our trip, and then a "Modified Jeep Wrangler" that we were to collect the following day; it was time to go off-roading! First, however, a fine dining experience at McDonalds and we checked in to our campsite which turned out to be in the town centre and not very pleasant. We wouldn't be staying here again tomorrow, that was for sure.
---
In the morning, we drove to the Jeep rental location. We filled out the paperwork and took possession of our shiny silver "Modified Wrangler". First things first; we made for the supermarket and bought lunch. It turned out to be "National Donut Month", and so we bought a box of 12 along with some more traditional fare and plenty of water, before setting off for the dirt tracks north of town.
The rental place had provided us with some maps of suggested routes which we were happy to follow. Our first trail was the Gemini bridges; easy off-roading that takes you to two rock arches. From there we headed west to Shafer's Trail which was much more dramatic, with a tremendous route of hairpin bends down an almost shear cliff hundreds of metres high. The trail continued along the Colorado river and past the Uranium mine and salt pans.
Finally, we made our way up Long Canyon Trail, which offered some of the most challenging off-roading (for beginners like us!), but also some of the most fun. All too soon we had to return the Jeep, hosed of dust, and reclaim our rental car for a drive out to a tiny camp site we'd passed earlier in the Jeep.
---
The following morning we visited Arches National Park. The park covers more than 75,000 acres, with over 2,000 naturally formed arches. The landscape was like nothing we'd ever seen.
National park visit complete, we returned the rental car at the airport and took back to the sky. Our destination was Mono Lake, 450nm to the West, but first we stopped at Milford in Western Utah for fuel. It was a Saturday; and we were the first aircraft that had come in that week. We were served by an elderly lady who was big on welcomes but short on teeth.
As we were fueling, the second aircraft of the week arrived – a Diamond DA42. We set off again for Mono Lake and landed as the light was fading, parking up next to the only other aircraft there, a Pipistrel microlight; I set up the tent while Hannah cooked dinner, and we turned in for the night.
Click here to read the next part of the story.