USA – Reno Air Races
USA – Reno Air Races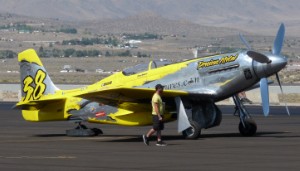 One of the biggest events in the US aviation calendar is the Reno Air Races. The first event was held in 1964 and has grown and developed into today's aerial extravaganza, centered around closed circuit racing at Reno Stead Airport in a variety of classes. The "Unlimited" class, racing on an 8 mile oval circuit at speeds of over 400mph, consist almost exclusively of heavily modified World War II fighter aircraft.
My friend Juvy and I decided that we absolutely must attend, and the best way to do this was of course to fly ourselves from Pittsburgh PA, in the northeast of the US, across the country to Reno in our flying clubs' Piper Arrow. As we were going all that way, we decided to make a slightly longer trip of it and pay a visit to the West Coast in California as well. We set out from Zelienople airport in the Autumn of 2014 for a 10 day adventure across the country – that would not end up quite as we had anticipated!
Click here to start reading the trip report, or use the links below.