The Southwest – Setting Out
The Southwest – Setting Out
Airplane checkouts
We landed in LAX mid-afternoon and made it swiftly out of the aircraft, the only hassle being a "charity mugger" who latched onto us and wouldn't let go. It's not long before we are safely into the bus to the rental car site, and following the GPS directions through Los Angeles. The sun has set by this point and we take the highway through downtown LA, marveling at the city centre buildings. Finding Ben and Alejandras place is easy and while we settle in, Alejandra cooks up a delicious pasta meal. We turn in for the night early, as always; an entire day of flying is planned for the next day. While Channel Islands Aviation are very helpful, they also have unusually strict requirements for renters compared to other places. While our rental school in 2007 had merely handed us the airplane after a one hour flight check, and said "See you in 5 weeks", CIA required a day and a half of flight checks, and insisted on approving every planned destination beforehand. Their school seemed professional enough that it was worth putting up with this slight hassle, and in the event, it turned out not to be too big a problem; they did initially refuse us permission to visit Mono Lake, which we had happily flown into in 2007, however.
---
We arrived, and met Assistant Chief Flight Instructor David Koble. There were, if I recall correctly, no less than five written papers to complete! A general checkout, an aircraft specific paper, and three papers for the three specific airfield checkouts that were required: Santa Catalina, Kern Valley, and Big Bear. David also conducted a thorough oral test on US flying procedures which was extremely useful given my rustiness after not flying in the US for the last couple of year. Finally, we made it out to N6543V, the C172 RG that we were to be renting. This is a version of the C172SP that we'd flown in 2007, but is rather older and has retractable undercarriage and a variable pitch propeller; it therefore counts as a "complex" aircraft and requires a special sign-off by an instructor. We conducted pre-flight checks, paying special attention to the undercarriage, and set off for our first stop; Big Bear, a high altitude airport the other side of LA. We flew high, through the Class B airspace over Los Angeles, before heading up into the hills and across the lake to Big Bear.
Big Bear sits at 6,750 feet above sea level. Still, this was not the highest airport that we had visited, that honour being held by Mono Lake from our previous journey. We landed on the westerly runway, facing the lake, and taxiied in to the apron to park up and stretch our legs for a while. David showed us around the terminal building, where regrettably they had just stopped serving pancakes, and we grabbed a couple of complimentary apples before returning to the aircraft.
The C172 RG has a couple of significant differences from the standard C172. Firstly, there is the obvious matter of the undercarriage, which is retractable and controlled by a large lever on the control panel. All that you have to remember to do is raise the gear after takeoff and, naturally, put it down again before landing. I was finding it tricky to remember that my wheels were no longer fixed solid, but thankfully I was forgetting to raise the fear after takeoff, not forgetting that I needed to put it down before landing! Before long the gear-raising was an automatic part of my after-takeoff checks.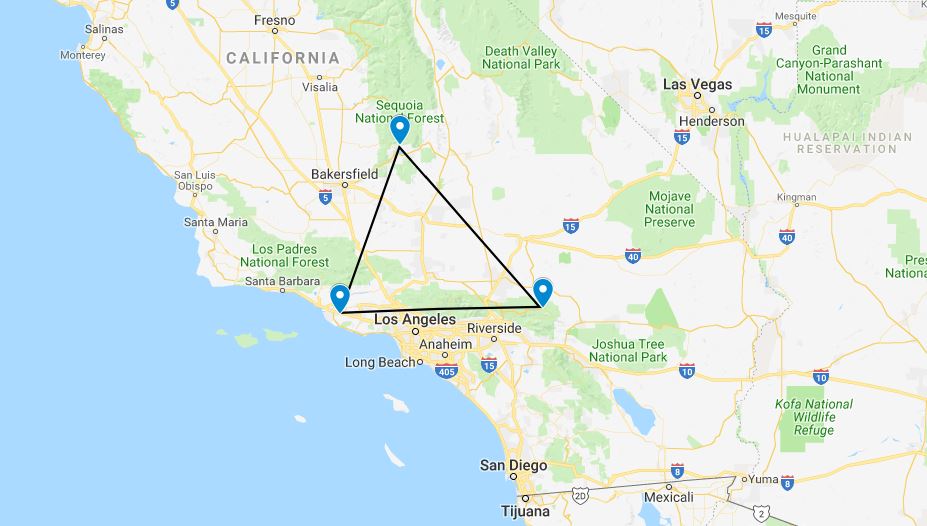 The other significant difference is the presence of a variable-pitch propeller. This works a little like the gears on a car, with the angle of the propeller blades changing to suit the pilots demands. For takeoff, the blades are set in fine pitch which gives good acceleration and climb but low top speed. Once in cruise, the blades can be coarsened to allow higher cruising speeds at more efficient engine speeds. On the way to our next stop, Kernville, we practiced some of the procedures linked to these new features; what to do if the gear would pump failed and the gear had to be deployed manually, what to do in the event of an oil leak from the propeller (the blade angles are controlled by pressurized oil), etc. We also practiced manoeuvres such as steep turns as we made our way across the desert and into the mountains again.
Kernville, or Kern Valley, is situated at one end of a man-made lake, surrounded by mountains. We landed on the lake-facing runway, which required a flight up the valley first and then a sharp turn to bring one back towards the airport lined up for landing. The airport has two parking areas; one at the lake end by the FBO, and another half way along the runway. This second parking area is for the airport campsite, which is purpose built and has a number of fire pits, well irrigated grass and trees, and even a solar-shower. We were planning to stay at Kernville on our second night away, so it was nice to visit and see how pleasant a stop it would be! David warned us to look out for bears; of course, just when we were starting to feel safe…!
It was getting late in the afternoon at this stage, so we took off again and turned back South towards Camarillo. En-route David decided that we should play a game which involved me closing my eyes and trying to follow his instructions, banking left, right, etc. This is often done by instructors to demonstrate what can happen if you fly into cloud without instrument training, the idea being that they tell you to fly straight and level again, and to open your eyes when you think you're doing this to find that you are in fact in a spiral dive or similar. The lesson is clear; avoid cloud unless trained, and if you do get into it then fly by the instruments, not by your senses! We landed at Camarillo in the twilight and drove back to Ben and Alejandra's, where Ben had returned. We shared an enjoyable meal with them, catching up on the last two years, before heading to bed.
---
The following morning we loaded all of our gear into the rental car and headed off to Camarillo. The C172 RG was coming up for a required maintenance check, which had been overlooked by the flight school, so they planned to carry it out that morning while I completed the flight checks with another instructor. As the C172 RG was in maintenance, we flew a C182 instead; this was an aircraft that I was keen to get some experience in, and as it had a 235hp engine, I could get my "high performance" sign-off in my logbook as well, required for aircraft with 200+hp. Another written exam was required, of course, before we could go flying.
The original plan had been to fly to Santa Catalina Island, 30 or so miles off the coast of LA, but there was a low cloud-base there which prevented us from visiting. Instead, we flew to Santa Paula where we practiced a few touch and goes, and then some instrument flying before continuing to the mountain airport of Agua Dulce to land and stretch our legs. From here we returned to Camarillo to collect the C172 RG.
On our return we discovered that there was a problem. One of the cyclinders of the C172 RG engine had been found to need replacing, and there was no way that this could be one in the next few days – disaster! Sarah Oberman, the head of the flying school, proposed a solution; would we mind taking the C182, N3513T, instead. Although not retractable, the 182 was larger, more powerful, and even slightly faster, and Sarah was offering it for only a few dollars more than the 172, considerably less than the list price. It did not take much to convince us so, after a trip to the local stores for food and other supplies, we packed up N3513T and set off North. Our first destination; Oceano, the airport where in 2007 we had met Ben and Alejandra, and bravely battled the fierce night-time raccoon.
The flight to Oceano was short, and passed very quickly in the speedy comfort of the C182. It was a new model aircraft, only a few years old, with a big moving-map GPS and an autopilot. We landed mid-afternoon and picked a prime parking spot next to the campsite; there were no other campers there.
After setting up the site we made our way into town for a walk, although recalling the state of the beach last time we visited we stayed well clear; allowing vehicles on the beach does seem to encourage a large amount of crazy driving! We stopped off at the local store for a few supplies, and debated finding a restaurant for dinner, but the discovery of barbecued hot-dogs at the stores back counter convinced us that this would be a fine dinner choice instead and we returned to the campsite to eat our picnic meal and turn in, the only campers at the field.
---
We woke early the next day, to a low overcast. Looking down towards the pilots lounge, we spotted movement; two elderly gentlemen were climbing out of the window. We were of course curious, and it turned out that they were in the habit of meeting a group of friends at the lounge for coffee and donuts every Saturday. Today, these gentlemen had been the first to arrive and on closing the door behind them found that it wouldn't open again; hence the escape out the window. We had to charge our laptop and so climbed into the lounge the same way, and before long more old gentlemen had arrived with tools, repaired the door, and joined us inside to brew coffee and share their donuts. JR arrived, the owner and operator of the yellow Boeing Stearman biplane that gives pleasure flights at the field. He, and a few of the others, were Vietnam veterans and happy to swap flying stories from their varied careers.
We refueled at the self service pumps, watching JR perform aerobatics overhead with a client. A local man and his young son were watching us through the fence and we got chatting, and let them in through the airport gate to come and see the aircraft and let the child sit in the pilot seat. Another aircraft arrived as we were fueling and confirmed our observations that the cloud was breaking up and the weather elsewhere was good, so we took off and headed East to Kernville on Lake Isabella.
We flew up the canyon, turned, and landed towards the lake as we had done two days previously, and taxied to the campsite; this time there were two other aircraft already present, and tents set up. We set ours up too, and with no sign of our neighbours, wandered up the runway to the FBO where we picked up some drinks, and discovered that the courtesy car was already out with the other visitors. We didn't mind; we had nowhere we wanted to go, so we walked back to the campsite. On the way, the courtesy car drove passed packed full of people; they waved and smiled as they passed. It turned out that they were indeed our new neighbours and we would meet them properly later.
Hannah decided to brave the solar shower. We filled the black barrel on the top with water, and went to visit the nearby river for a while while the sun warmed the barrel of water. On our return Hannah enjoyed a brisk shower, although reported that the sun had not noticeably warmed the icy water! I decided to wait and shower the next day, somewhere with warmer water…
We cooked a simple dinner on our camping stove as it got dark, and then retreated into the tent to read. Not long after that, our neighbours returned and got a fire going, so we made our way over to say hello. There were five of them, and they had flown in from the Travis Air Force Base Aero club to camp for the weekend. They turned out to be extremely friendly and entertaining people, Bob in particular being something of a natural clown and entertainer; he spent a while wandering around in the darkness throwing a pair of balled-up white socks into the air to try and prove to us that bats would be unable to resist grabbing them. We didn't see any bats. After some time around the fire, cooking s'mores and swapping stories, we turned in for the night.
---
The next morning was freezing; it was clear that up here in the hills it would not be at all warm until the sun came over the mountain-tops and lit the valley. We cooked breakfast, bacon sandwiches, and returned to the newly stoked campfire where Bob, Seth and the others were waking up. Bob, the only one who was capable of starting the old Chrysler crew car (named "The Beast") got the engine running for us to drive to the FBO and pay our fees. He had a special checklist worked out that included opening the ashtray, winding down the window, and fastening then unfastening the seat-belt, and enjoyed playing to the crowd as he worked through it.
We returned to the campsite to finish packing and took off over the lake, heading North for our flight to San Francisco where we would meet my friend Nina who was studying at Stanford.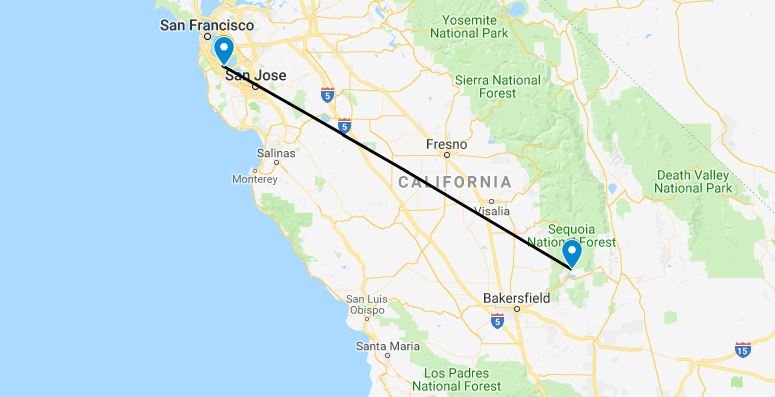 With the autopilot, the flight up across the hills and valleys was smooth and relaxing. As we approached the San Francisco area a layer of cloud began to form below us, and we descended through a gap to continue under the rapidly forming overcast.
We were bound for San Carlos airport, and flew low across the city, and Stanford itself, as we joined the busy circuit and landed. We found a taxi which took us to the nearby CalTrain station, but the next train was not for an hour or so; we decided to explore the street-fair that was going on the other side of the tracks. There was a lot of local art on display, as well as a number of food stalls; including the "Extreme Brownie Company". Naturally we could not resist this temptation, and got chatting to the stallholder as we tasted samples. He was keen to hear about where we were from and asked a lot of questions, before revealing his ulterior motives; would we be his importers in Europe! Needless to say, we were keen to be shipped wholesale quantities of chocolate brownies and took his card, just in case.
The train arrived, and having polished off the brownies we boarded for the short ride to Stanford. We met Nina on arrival, and took the free shuttle bus to her room to relax and shower before heading out for a tour of the university. We stopped in first to a university club barbecue and enjoyed the food and conversation before continuing to the main university. Nina gave us a tour of the main buildings, taking in the great architecture for a few hours, and dined in a student restaurant before a few hours chat at Nina's, and a taxi to our motel. A big storm was coming in from the North and we wanted to stay ahead of it rather than getting shut down by weather.
Click here to read the next part of the story.