Alaskanada – The run to Eureka
Alaskanada – The run to Eureka
The day dawned exactly as the forecast said it would; 200ft overcast in mist. A beautiful day to head to Canada. Thankfully the freezing levels were pretty high, so we filed IFR to Inuvik for our entry to Canada. From there we'd keep heading way, way east to Cambridge Bay, a total for the day of just over 1,000 nautical miles.
The overcast was, as reported, only a few hundred feet thick and soon we were covering yesterday's ground again, but pushing on past Barter Island and into Canada.
The landing at Inuvik was uneventful, and we called Canadian Immigration as normal. This took a little longer than usual as we had a rifle on board, but after a while they took all the required info, and their $25 fee, and we fueled up. Not long after this a couple of Mounties turned up, having been asked to come and check things out themselves. They performed a cursory inspection of the aircraft, and a very thorough inspection of the rifle, and sent us on our way. Both were very friendly and professional!
We had lunch in the airport restaurant before continuing. The terminal was busy with passengers coming and going from a Boeing 737. From here, we flew three short legs of a couple of hours each, running east to Cambridge Bay. The terrain was not terribly varied but beautiful, and seriously remote.
We landed at dusk, which this far north was very late in the day. The long days were excellent for making progress. We set up camp just down the bank from the parking ramp, watched over by a bird of prey that was nesting on the hangar next to us and not terribly impressed about having visitors.
---
With temperatures dropping down to around freezing, it was a chilly night! Due to an error with time zones I was up an hour early, and only realized once I had made it to the offices of the Kitnuna Corporation. I had corresponded with one of their managers, Dave, in advance to ensure availability of AVGAS. We took care of the paperwork, and a few of his employees accompanied me back to the airport together with two drums of AVGAS.
This was our first time refueling from drums, and we rapidly discovered that the plastic hose I had bought became entirely solid when very cold, and was curled in a circle. We fought it for a very long time, eventually managing to get the tanks filled. We had half a drum left, to be picked up on the way back south in a couple of days! This done, we headed north to Resolute Bay!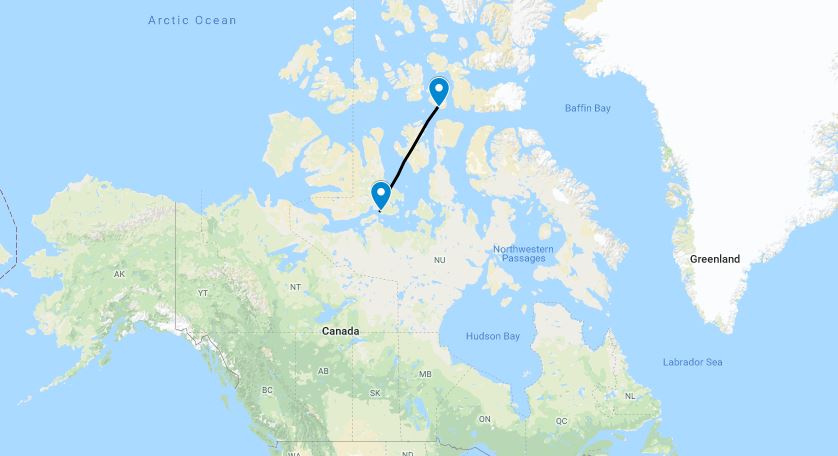 Aziz, our AVGAS supplier at Resolute, met us at the airport a few minutes after arrival. He was extremely responsive and helpful! We used his much nicer pump setup to refill the tanks, and got set up at the nearby airport hotel. Both AVGAS and hotel were eye-wateringly expensive, but what else can you expect this far north? Logistics costs rule up here!
---
We were up early, in the hope that this would be the big day we made it to Eureka! The weather looked promising, so we packed quickly, grabbed a snack from the breakfast room, and headed out. Arriving at the airplane I was a little disconcerted to see a large blue frozen patch on the ground, blue spatter all over the airplane, and a steady stream of AVGAS issuing forth from the left wing. Crap…
We made things right, and assessed the situation. The one time in my flying career that I broke my rule (I changed away from "both" on the fuel selector when I initially shut down, but not when I restarted again to shift the airplane), and we'd ended up losing about 20 gallons of the most expensive AVGAS I'd ever purchased. Some quick calculations showed that we would, at least, still have the fuel to get to Eureka and all the way back to Cambridge Bay without needing another $1,400 barrel. Thank goodness for the flexible fuel containers that I'd bought, they tipped the balance!
The flight up to Eureka started off similar to the previous day, but as we passed the half way point the flat terrain started to gain some features and relief. Extensive sea ice was all around, along with heavy snow cover on much of the high ground. The winter season was already approaching and it was clear there hadn't been much of a summer this year. As we traveled further north, the base map on the GPS ran out. Clearly they weren't expecting many people to fly up this way!
The final 100nm took us up a long fjord to Eureka, which is an Environment Canada research station. The lady on the radio seemed a little surprised to have a C182 call up for landing. The runway was in good condition. First things first, after landing we got the fuel containers out and filled up. As we were doing this the station manager turned out to say hello. He was very welcoming and told us a bit about the place. They had just hauled in hundreds of tons of rock ready to re-gravel the runway, a huge logistical undertaking! Additionally, there was apparently a film crew in from National Geographic for a few weeks, looking for wolves!
After looking around a bit, it was time to get going and run south. Best to make the most of things while the weather is good. The first leg had us retrace our steps to Resolute Bay. We cruised higher this time, on top of a slowly encroaching overcast.
Click here to read the final part of the story.