Round the World – New Zealand 2, Part 11
Round the World – New Zealand 2, Part 11
After a few fun days in Auckland, it was time to leave for the final time and start the journey back to Australia. As mentioned in Part 8, Australia had recently opened their borders (with some limitations) to travel from New Zealand, and I had originally planned to fly from Kerikeri to Sydney. In recent days, though, Tasmania had announced that travelers from New Zealand were now welcome without needing to quarantine. I wanted to visit Tasmania, so I changed my planned crossing of the Tasman sea; I'd now fly from Invercargill, at the bottom end of New Zealand's South Island, to Hobart in Tasmania. This had the added advantage of being a couple of hundred miles shorter than the Kerikeri to Sydney route.
I said my goodbyes to Trish and the others at Warbirds, and thanked them for their support over the past months. I really could not have asked for more friendly or supportive hosts, and they had made an enormous difference to my stay! They waved me off as I climbed on board and taxied out for a departure to the north across Auckland harbour and onwards. Although I was now intending to depart New Zealand from Invercargill, I still wanted to visit a few of the airports up in Northland before I left.
The weather was not as good as previous days, with some low clouds and showers all around the Northland area; it was still perfectly good enough for touring around and visiting a few new places, however. After leaving the Auckland area I flew north across the Kaipara harbour, an enormous natural enclosed anchorage on the west coast, towards my first destination of Ruawai. This small, municipal airstrip is a sits next to the Wairoa river. From my inspection, it looked like it hadn't been mowed in a while, with a lot of weeds and grass encroaching on the narrow center section, so I decided to set up for a low fly-by and make it into a touch and go if the surface seemed OK. It did, and so I touched the wheels on the runway before pushing the power back in and climbing out.
My next landing was just a few miles north, at the slightly larger municipal airport of Dargaville. Also situated on the banks of the Wairoa river, this field has a much longer and wider runway which seems to be kept in good condition, probably due in part to the crop-spraying operation based there. I parked outside the main club building and wandered inside, where I found an elderly couple cleaning and tidying. They welcomed me, telling me that they managed the little cafe which ran there on some days of the week. Today was not one of them, although they did kindly offer me a tea! I declined, as I wanted to make progress while the weather was holding, and said my goodbyes.
I took off to the west, and circled once over the field as I turned on course to the north and crossed the Wairoa river. I crossed rugged, bush-covered hills as I made my way further north towards Kaikohe. This large grass field is used largely for glider flying, but today it was quiet, and I spent just a few minutes looking around on the ground before taking off again, and continuing on my way.
My next destination was Kaitaia. This regional airport is the most northerly public airport in New Zealand, and has occasional commercial flight service as well as charter flights from the flying doctor, and a small flying club. I taxied in and shut down in front of the club building; it looked open, so I thought I'd go and have a look around. It was indeed open, and the sole occupant was the pilot of the Piper Aztec belonging to Sunair that was parked up on the far side of the apron. He told me that he was there carrying a couple of doctors, who'd travelled up for the day for appointments. I suppose the population up there doesn't support a full time doctor. I asked him about any interesting private strips to visit that might be even further north, and he told me about one belonging to a charter operator; I spoke to the owner on the phone and he said I was welcome to visit, but that it was a challenging strip and the only pilot who'd landed there without a familiarisation visit before had run off the end. With winds increasing, and rain showers around, I decided that visiting this strip was probably not necessary. After paying my landing fee in the terminal and running back to the plane in the middle of a downpour, I departed off the left downwind and headed south. I had just four days to make it the full length of New Zealand, and plenty of places left to visit!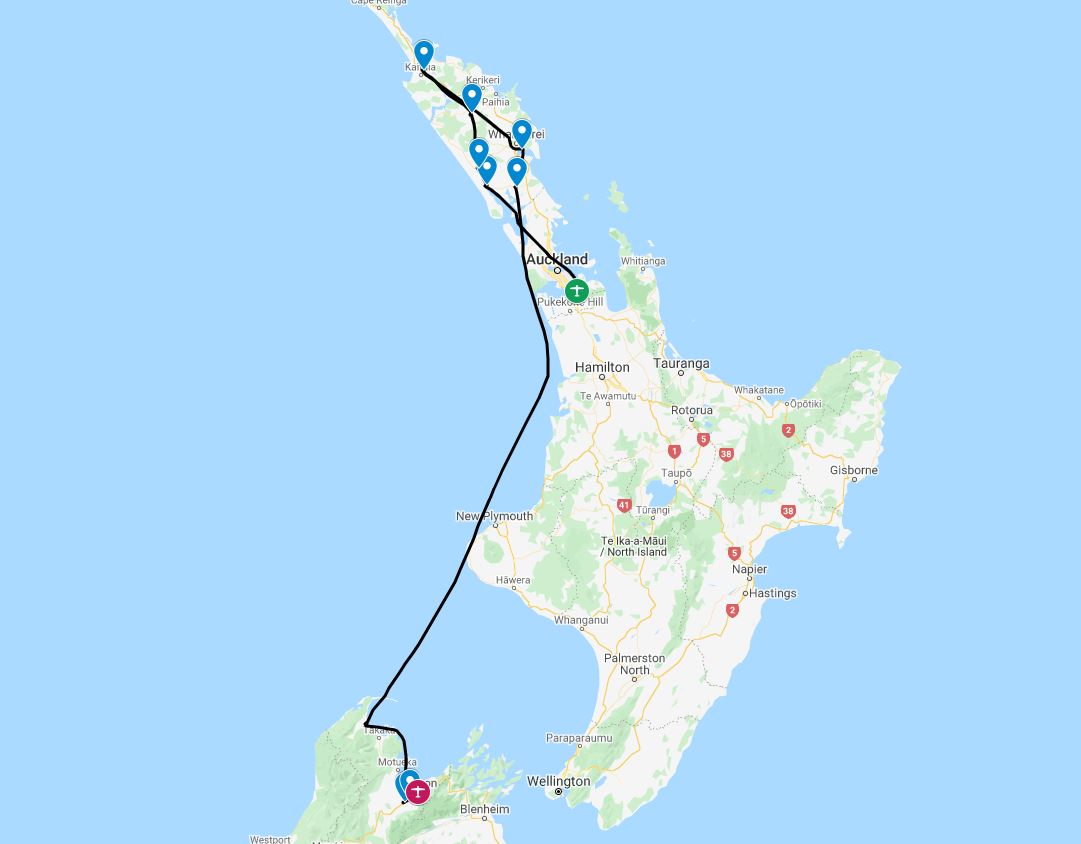 My flight now took me to the southeast, back almost directly overhead Kaikohe and across the rolling bush and hills towards the town of Whangarei. This city is the capital of Northland and the largest settlement in the region, with a population of around 55,000. European settlement began in 1839, but following Maori raids on all the local farms in 1842, all settlers abruptly left in 1845 at news that more raids were on the way. People slowly started drifting back over the following decade and today the area is primarily sustained by tourism and agriculture.
The airport at Whangarei is perched on a small peninsula and surrounded by waterfront houses. The airport information mentions that the surrounding area is very noise sensitive, so I took care to follow the noise abatement instructions, landing straight in from the west and overflying as few homes as possible. I stopped for a bite to eat at the airport terminal cafe, before taking off again and turning south to visit the first private strip of the day, known imaginatively as "Wings".
Wings is a gravel strip which runs up the side of a small hill. It's very much a one-way-in, one-way-out kind of runway, landing uphill and taking off downhill. The runway condition was great, and I rolled out on the smooth surface using the gradient to slow down, coming to a halt on the little turning pad at the top of the hill. The runway runs alongside a road and I wondered what passing motorists thought at the sight of an airplane coming in to land, seemingly straight at them. Nobody was around, so I swung the nose around and took off down hill for the long flight to the South Island.
There were a couple of airstrips on the North Island which I had been keen to visit, but which were sadly inaccessible at the moment; one due to presence of livestock, and one due to presence of a lot of heavy machinery. Neither of those sounded like things I'd want to hit on landing, so those strips would have to wait for another time. Thus, my next destinations were all on the South Island, and the first of them were right on the northern tip, around Golden Bay. I cruised down the west coast of the North Island, past old favourite family holiday locations such as the beautiful Piha beach where my father and I used to try and dam the little streams that ran down across the sand; usually with very short term success! I enjoyed one last view of the Auckland area as I flew over the Manukau Heads, and then onwards south to Mount Taranaki (today, hiding away in the clouds away from my sight). I coasted out over the South Taranaki Bight, and headed for the Farewell Spit and the shores of Golden Bay.
There was plenty of low cloud around the Golden Bay coastline. My intention was to locate and land at two local private strips, Ferry's Point and Mackey's Pass. Today I was unsuccessful at both attempts. I failed to find Ferry's Point because, as I would not realise until the following morning, I had mis-typed the coordinates into my GPS when entering it as a waypoint and was looking in the wrong place. When I circled the area a few times, it was hidden under heavy cloud and I just assumed that I couldn't see it because of this! Mackey's Pass too was clouded in, so I decided to head for the Nelson area for my overnight stop before returning the next morning and hoping for better conditions.
There were two more private strips to drop in to on the way to Nelson, both of them very close to the main airport. The first of these was Malibu Park, a paved strip which I had flown over many times during my stay in the Nelson area, but never landed at. The owners had welcomed me to visit, although they weren't around at the time of my arrival. Speaking with the Nelson tower controller on my way in, to ensure he wasn't unsettled by this radar blip heading for his airspace, I joined the Malibu Park circuit on downwind and came in to land, touching down abeam a father and his two sons who were in one of the orchards apparently apple picking! I parked in the small bay half way down the runway and took a brief look around. I can't deny that I had a pang of envy for the beautiful home, gardens, and runway.
My final new stop of the day was a strip known as Wagner, presumably after the owner. It's just a couple of minutes flight from Malibu Park, and you're barely airborne before it's time to turn onto final approach at Wagner and land. A left turn had me lined up with final approach and I touched down on their well-groomed grass runway, rolling to a stop and parking at the end near the house and hangars. The garage door was open and inside, working on a classic car, was the homeowner and owner of the airstrip. He greeted me and invited me to go and check out the hangar contents; there was apparently quite the collection of aircraft inside.
He had certainly been telling the truth, the hangars were packed full of interesting aircraft belonging both to him and to others who rented space at the strip. After spending a while nosing around I returned to the house where the owner gave me a brief look around his classic Ford before he had to get on with other tasks, and I returned to the aircraft and departed. Nelson gave me an immediate clearance to land, straight in from Wagner, and I parked in my usual spot before enjoying one final relaxing night in this beautiful city that had been my home base for the last few months.
---
I was back at Planey bright and early the next day. I took off on runway 02 and turned out left for a downwind departure back towards Golden Bay. The plan was to make another attempt at finding and landing at the two strips in that area, Ferry Point and Mackey's Pass. As I climbed over the Takaka Hill there was a solid cloud layer below, but up ahead it was starting to break up, which was promising. I was listening in to the Takaka airport frequency; there was a conversation about weather conditions going on between the ground base of Golden Bay Air, and one of their aircraft. They could clearly see me using my ADS-B Out, as they called me up and asked for a weather report from my position which I was happy to provide.
I descended towards the marked location of Ferry Point, but once again the ground was barely visible through the low cloud. Things looked better over in the direction of Mackey's Pass, so I flew that way instead and found the strip just outside the area of poor weather. After a close inspection of the runway, I touched down in the uphill direction and rolled to a stop at the top of the strip.
The strip was pretty firm, despite the rain that had clearly been passing through; plenty of rocks, and good drainage, seemed to keep the mud at bay. I shut down and stepped out for a short look around. The area was deserted, with just a little shack nearby, and an empty road running through the pass. It was a beautiful location, although I couldn't help but wonder why there was a strip there! Not that a reason is needed; I'm a firm believer in having an airstrip just for the sake of it. After a few minutes I returned to the aircraft and had another look at the airport data for Ferry Point. The glimpses of land which I'd had in the area marked on my map did not look conducive to fitting an airstrip, and indeed, it turned out I had incorrectly entered the coordinates. I corrected this, and the new location looked rather more sensible. Time to go find it!
It was a short flight over to the coast, where the weather was significantly clearer, and Ferry Point was easily found. Amazing what a difference it makes when you're looking in the right place! I'd been advised to perform a low pass to check out the strip and move any cattle; I did this, and then flew a teardrop to reverse course and come in to a landing. The recent presence of cattle made itself all too clear as brown muck was suddenly flung up all down one side of the aircraft.
I reversed my direction for takeoff, back out over the water, and flew south along the coast. I climbed hard to get above the hills, before I could turn on course over the mountains and head for the Hanmer Springs area. Although Ann and I had landed at the (closed, as it turned out) Hanmer Springs airport a couple of weeks earlier, I was keen to stop into the new Hanmer Springs River Road strip, and it was nice and close to the next batch of strips that I wanted to visit. The flight took me across now-familiar mountains and wilderness; Kahurangi National Park, Mount Richmond Forest Park, Nelson Lakes National Park, and more. The views of the mountains, partially shrouded in cloud, were particularly breathtaking today.
I descended into the little bowl of terrain which Hanmer Springs sits in, and quickly picked out the strip. An inspection suggested that all looked good, so I landed and parked next to the only building, a hangar at the far end of the strip. The door was open, but nobody was home, so after a few minutes I taxied back to the end of the runway and departed, keen to keep up momentum through all the different airfields I planned to visit.
I took off from River Road, and once at a safe altitude turned east to cross the hills towards the private strip of Gardner. I had taken extra care to check the coordinates of all of today's strips, and the runway showed up just where I was expecting to see it, which was gratifying. The field was large and on something of a slope, and I was able to comfortably land uphill before taxiing back down and parking near the gate. The property appeared to be a working farm, and I walked through a gap in the large wind-break hedge to pay my regards to the owner. He wasn't around, but one of the farm workers was, busily training a sheep dog in the art of herding. I watched this fascinating task for a while before heading back out to the strip and departing uphill; the wind was strong enough that this seemed better than departing downhill with a tailwind, and I was fairly light.
I continued east towards the coast and the private strip at Blyth Downs. It always amazes me how rapidly the landscape changes in New Zealand and in a matter of minutes I was away from the rugged mountains that define the central South Island, and flying over rolling hills, farmland and rivers of the Canterbury coast region. Blyth Downs is located just south of the Hurunui River, in a lush agricultural valley, and the strip is easily spotted by the hangar located at one end. I parked outside this hangar, and gave the owner a call (he's a friend of a friend); his wife answered and let me know that he was out on the farm, so unfortunately on this occasion I didn't get to meet him. I took off again and headed back inland.
My next stop was "The Triangle" – perhaps named after the confluence of roads at one end of the field that form such a shape. I flew a normal circuit and landed to the north, over the road; I was a little over-enthusiastic in my desire to get down and braking as close to the threshold as possible, and a tree at the southern fence punished my enthusiasm by leaving a leaf on the leading edge of my left wingtip. The owner of this strip had an interesting setup with the home and hangar being across the road from the runway; to get to and from the strip, one had to taxi over the road! I stayed on my side of the road, and departed after a few minutes stretching my legs.
From The Triangle I flew south, to the Christchurch area. There are a huge number of private and other small strips scattered around this area, some of which I had visited a few weeks earlier during the AOPA strip flying event. There were still a few that I hadn't had the chance to land at, however, the first of which was Loburn Abbey. I'd chatted by phone with the owner and he'd welcomed me to visit and given me a briefing on the strip; it was a beautifully manicured grass area, with a lovely house and hangar half way down. As I taxied in, the owner Ivan approached on his classic motorbike and led me down to park outside the hangar. The very first thing he said to me as I alighted was "Do you need a hose?" I gratefully accepted the offer!
Loburn Abbey is the home of Campbell Aero Classics, whose main business is the manufacture of modern hard-shelled aviation helmets, primarily for flying warbirds and classic aircraft. They also distribute and assemble Titan T-51 replica Mustangs, and Spitfire Mk26A/B replica aircraft, several of which were in the hangar when I visited. After washing the cow mess from Ferry Point off of the aircraft, Ivan took me into the hangar for a cup of tea, a biscuit, and a look around.
While enjoying a tea, I took the opportunity to check my email, and I didn't much like what I saw. I had sent all my international documents through to the Australian Border Force in Hobart, after talking to them on the phone and getting a verbal OK to fly in. They'd now looked into the matter further, and determined that despite the fact that Tasmania was now open to travelers from New Zealand, the official text of the guidance still said that they must make their first arrival into New South Wales or the Northern Territory. This bureaucratic nonsense was set to make my life rather more difficult.
I called them up, and we discussed options. The only practical one was to fly into Sydney (very few airports in either NSW or the NT were accepting international traffic), clear customs, and then fly from their straight down to Hobart. Given that neither New Zealand or Tasmania had any COVID cases, but Sydney did, this seemed like a prime example of brainless bureaucrats causing additional risk and hassle for no reason; but those who set these policies have no accountability, and so generally don't care about fixing it. Despite how it can appear on the standard Mercator projection maps, the distance between Invercargill and Sydney is actually shorter than the distance between Kerikeri and Sydney, so I elected to keep heading south and depart from Invercargill regardless.
Ivan gave me a tour of the workshop and the collection of aircraft within; as well as insisting that I pose for a photograph with one of their famous helmets. My timing had been quite fortuitous, as one of the Spitfire Mk26s that Ivan had sold to a local farmer was coming in for some work. We wandered outside to watch the arrival; he flew a low pass over the strip before setting up on a curving final. Ivan had warned me that this particular pilot liked to carry a little extra speed on landing, and the strip was not overly long as it was; indeed, he ended up pulling to a halt just feet from the far hedge and taxied back to park up next to us.
Before I left, Ivan gave me a bag with an aircraft part. Just before I arrived he'd received a call from a friend in Dunedin who needed it ASAP, and luckily I was planning to pass through that way. We arranged that I would stop in and drop it off. I said my goodbyes to Ivan and the others, and was on my way, with a 5 minute hop down to Fernside Fields. I hopped the Rakahuri river and set up for landing on their smooth grass field, taxiing back to the arrival end of the runway. The manager, Keith, had told me he wouldn't be around so I wasn't planning to stop, but as I prepared for my next leg I saw a man walking down the taxiway towards me with his arm raised. I taxied in and parked where he indicated. He was a home owner on the field, British by origin, and Keith had let him know I'd be coming. We made our way into his place for the mandatory cup of tea!
We sat on the patio with his wife, and chatted about flying, life in New Zealand, and my upcoming stops. He knew the owners of a few of the strips, and was able to give me some good tips about routes and stops. I said my goodbyes, thanking them for their hospitality, and took off again heading south.
As I was in the area, I'd decided to stop into Christchurch International. I called up the controller as soon as I was airborne, and he asked me to stay outside his airspace while he figured out what to do with me. It didn't take him long, and he cleared me in for a left base arrival to the small grass strip, parallel to the main runway. This strip was the home of the Canterbury Aero Club, one of whose PA38 aircraft was performing training circuits. I landed and taxied back to the beginning of the runway, queuing up behind the Tomahawk who was waiting for departure.
Departure gave me a great view of the terminal; despite the global COVID situation, there was still a little evidence of international flight, with a Singapore Airlines long haul jet parked up. I turned out to the left and with Christchurch at my back, flew the few miles to the small airfield of West Melton. This field is operated by the Canterbury Aero Club and is invite-only, but they'd been happy to grant me permission to fly in for a visit. The wind was getting up to a fairly strong level by this point of the afternoon and I was left with a choice; the longer runway with a sidewind, or a short runway facing into the wind. I chose the former which was probably an error, with a slightly wobbly touchdown, but was able to land and taxi in uneventfully.
A few students and instructors were hanging out in the clubhouse, studying or carrying out post-flight briefings, resplendent in their smart pilot uniforms. They were curious about why this scruffy foreign pilot had turned up but once hearing the story were keen to come outside and check out the aircraft. After a drink and some chat, I was on my way again; this time I selected the short, into-wind runway for departure. This runway points northwest, in the direction of my next destination, Forest Field. It was another very short flight, crossing the Waimakariri River before joining the traffic pattern at Forest Field. I parked up close to the home of the strip manager, who had invited me to visit; she and her lovely dog came out to greet me!
We retired to her house, and enjoyed tea in the little control tower that sat atop it, before it was time to continue. I flew further inland to the base of the Southern Alps, crossing back over the Waimakariri River and flying by a couple of familiar strips from the AOPA flying day, Darfield and Intake. My destination was Pudding Hill; I'd flown over this strip when touring with Ann but hadn't been able to get in touch with the owner and secure landing permission. This time, I had been successful, and I was looking forward to visiting!
I crossed the Rakaia river as I started my descent towards Pudding Hill. The wind was pretty strong now, coming off the hills, and causing plenty of turbulence. In retrospect my decision to land was probably questionable, but I allowed myself to be influenced by the fact that I'd probably not have another chance to visit. There was a lot of turbulence and crosswind on final, and it was certainly one of the more challenging arrivals of my New Zealand tour, but Planey and I made it onto the ground without incident and parked up next to the large complex of buildings at the far end of the strip. I made my way to the house at one end of the complex, and knocked.
The owner opened the door and greeted me. He was worried to see me approach the house on foot, he said, thinking that I had crashed the aircraft in the turbulent conditions! I reassured him that I had simply parked up in the wind shadow of the hangar, and that all was well. He took me for a tour of the hangar buildings, and told me a little about the location; they used to run a parachuting business out of the strip using Cessna Caravans, but that was gone now and he confided in me that he had lost all interest in aviation. He referred to the hangars, now, as his ultimate man cave.
Based on his local knowledge of the strip, he gave me advice on departing in these conditions; "get as close to the fence at the uphill end of the strip as you can, and then go for it". That sounded good to me, so I taxied back to use the full length, pushing in the power as he waved goodbye. I stayed low to gain a little extra speed than normal before climbing out, and the bumps and turbulence gave me no problems.
My flight to the next stop of Harts Methven was swift, with the wind behind me. This strip is located on a farm, and being a little further out from the hills than Pudding Hill, it was a much easier landing; the strip was lined up into wind, rather than across the wind, which helped too!
The strip owner wasn't around, but one of the other farmers was there tinkering with a large piece of crop spraying equipment. This was apparently a new toy that they were testing out, in addition to the several large crop spraying aircraft which were parked up in the shed. It was, he told me, much cheaper for small areas than the aircraft were; and it was a very cool looking piece of gear. He couldn't stop for long, but welcomed me to check out the crop sprayers before I continued.
My final flight of the day took me further south, away from the Christchurch area and into the southern half of the South Island. I'd be landing at the private strip belonging to Iain, one of the AOPA management members who had organised the strip flying day. He had invited me to stay overnight with him and his wife, and I had gladly accepted. The lowering sun cast beautiful light on the mountains as I flew south and reached his home, at Longridge, landing uphill and parking up in front of his C172 which was tucked in an open-fronted hangar by the house.
Iain and his wife were busy in the cattle yards, but came over to greet me and show me around. I secured the aircraft and settled in while they finished up. That evening Iain and I went over my plans for the next couple of days, and he gave me some great tips and suggestions about destinations; that done the three of us enjoyed a great dinner of pasta, and AOPA branded wine!
Click here to read the next part of the story.