Round the World – Australia Days 1 to 3
Round the World – Australia Days 1 to 3
I touched down at Sydney airport, and after a short wait was on a tiny Rex airplane out to the city of Albury, New South Wales, where the rental 206 was based. I walked straight around to the aviation business of the owner, Stephen, and we jumped in the aircraft to do a quick flight checkout as I'd not flown a 206 before. It was not at all difficult to get the hang of, being very similar indeed to the 182. After a bit of airwork and a few landings, all done in low visibility due to the smoke from the active bushfires nearby, Stephen gave me a lift to my hotel where I met up with my brother and his friend Jen. They had been on a road trip for the past couple of weeks through southeastern Australia, ending up here to join me for the flying.
That evening we wandered out of the hotel and found a well reviewed Indian restaurant, which was exceptional. It's always a treat to find Indian food done in the style that we're used to in the UK, even if it's not authentically Indian! We settled in for early nights, as the next day would bring the first of many early starts to come.
---
I met Rowan and Jen at breakfast in the hotel, followed by Jen driving us out to the airport. Our Australian pilot Ollie had had his flight to Albury delayed, and was now arriving this morning rather than the previous night. Rowan, Jen and I went to the supermarket to buy some water and snacks to stock the 206 while Ollie stayed behind and completed a quick check flight with Stephen.
We then prepared the aircraft for departure. We'd had one of the rear seats removed to provide more luggage space, and everybody was traveling light (Rowan had significantly reduced his luggage volume after an initial check the previous night), so loading didn't present a problem. After grabbing a couple of extra headsets, the four of us jumped on board and taxied out for departure.
Our first flight took us from Albury, north across New South Wales to Maitland. After takeoff we were held at low level because of incoming traffic, which was a hot and bumpy experience; there was a heat wave across Australia at the time, and temperatures had exceeded 40 degrees C at times. Visibility was still poor thanks to the widespread bush fires across the state; we'd had to check carefully to ensure our route did not interfere at all with any restricted areas for firefighting operations.
Eventually, we were given clearance to climb up to 9,000ft where it was much cooler and smoother. The visibility improved a little as we went, as well. The countryside below us was dry and parched, and it was plain to see why the bush fires were hitting the region so hard. Every now and then a fire could be seen, sending up huge plumes of white smoke; at times, visibility was almost down to the minimum for VFR flight. Maitland itself had fairly good weather, and approach and landing was straightforward, after two and a half hours in the air. We refueled, and then met up with my Aunt Janet who had very kindly collected some essential supplies from the C182, and brought them to us; things like my flying headset!
We had a quick lunch at McDonald's, and returned to the aircraft. On the way we ran into David, the owner of the maintenance facility that was looking after the 182, and received an update on progress.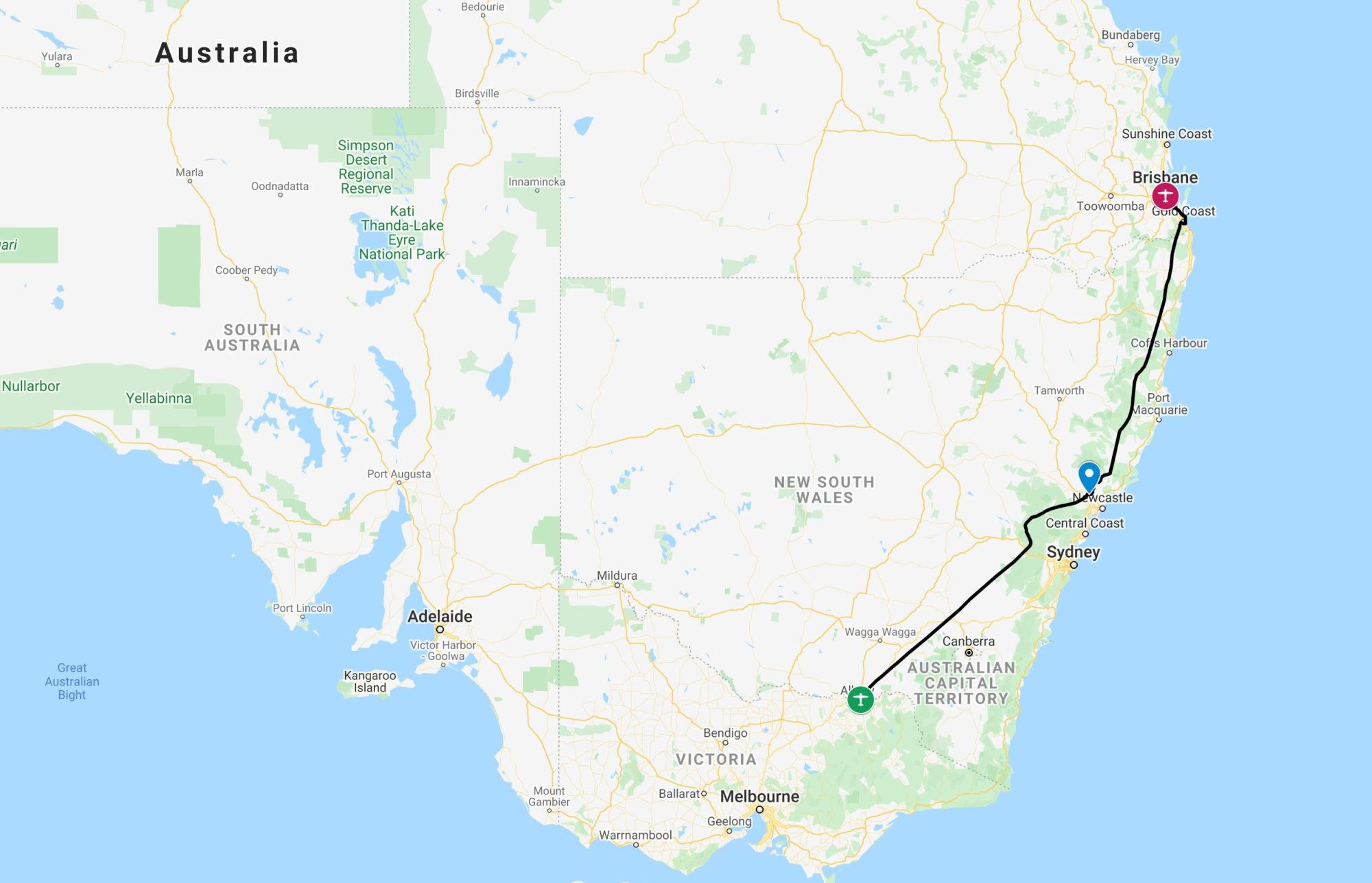 The second leg of the day would take us north along the coast to the city of Brisbane. The initial routing out of Maitland saw us following a railway line at 1,500ft, an established VFR corridor that keeps aircraft out of the airspace of Newcastle airport. After what felt like forever, being bumped around at low level, we were clear of the airspace and were able to begin a climb through the haze to smoother air.
Now that we were in the clear, we set course for the city of Gold Coast. The flight continued over parched countryside and tinder-dry forests, until it was time to begin a descent to remain clear of Gold Coast airspace, and to join the low level corridor along the beach. We flew along the coast at 500 feet, past the skyscrapers and fun fair, enjoying fantastic views. North of the city we turned back inland, as it was just a short hop over to Archerfield, the general aviation airport serving Brisbane.
For a change, we chose the grass runway, 4R. The airport has a slightly strange set-up with two parallel tarmac runways, and two parallel grass runways. We parked at the end of a row of aircraft, next to a Beech Skipper that Ollie had previously ferried up to Archerfield for the new owner.
We ordered an "UberXL", given that there were 4 of us plus bags, and were a little surprised when a standard Prius turned up. We managed to squeeze in anyway, and headed to the Adina Apartment Hotel where we met up with our fifth team-member, Hiyo, who'd arrived by bus earlier. Dinner that evening was at a pub a ten minute walk away, across the river; my brother's attempt to have a light dinner by just ordering a starter and a salad was proven futile after the chicken wings he ordered unexpectedly turned out to be a 1kg platter. We retired to Rowan's room for a quick drink, and then made our way to our respective beds.
---
We met at 10, and walked to the Brisbane museum, located in part of the Brisbane City Hall. There was a small display of local artwork, and a little about the history of the city. It was quickly exhausted, but one could also take a self guided tour of the City Hall itself, including the very impressive central auditorium.
From here we walked towards the maritime museum, but were distracted along the way by a stall by the water offering a 90 minute river tour, leaving now. We jumped aboard and were treated to a run up and down the river, learning a lot more about the history of the city and enjoying the beautiful buildings along both banks.
After this we spent an hour or so in the Queensland museum, most of which is free to visit. The three main exhibits covered tribal music, fauna of Queensland and the world (including dinosaurs), and a historical exhibition about the ANZAC forces, particularly around Gallipoli.
From here we returned to City Hall, for a tour of the bell tower which for many years was the tallest structure in Brisbane. After it was first built, demand from the citizens was so great that within a year regular tours were being taken up it.
We returned to the hotel for a rest, before a simple dinner at the nearby "Pancake Manor". Drinks and snacks in one of our rooms finished off the evening, as we watched the light show projected on the bell tower.
Click here to read the next part of the story.