Round the World – Australia 3, Part 1
Round the World – Australia 3, Part 1
After a long journey from the UK my flight touched down in Sydney late on a Wednesday night. I had hand-carried a new 7kg starter motor for Planey half way around the world and was really looking forward to getting rid of the thing. By the time I had cleared immigration and made it out of the airport it was much too late to get the train north to my final destination, so I rode a couple of stops on the metro and settled in for a night in a nearby hotel.
---
I was up early the next morning, thoroughly disoriented by jet-lag but full of energy. Today, after nearly two years, I'd finally be seeing Planey again! Walking back to the metro, I rode a few more stops to Sydney Central station and transferred to the rural service to Maitland, New South Wales. A three-hour journey north through bright sunshine and beautiful countryside had me arriving at Maitland station, where my Aunt was waiting to meet me. Helpfully, she had recently moved to live just five minutes from Maitland airport!
After a light lunch, I borrowed the car and headed out. Not to Maitland Airport, however; this time I had to drive an extra 10 minutes to the small grass field at Luskintyre. This is where the Luskintyre Aircraft Restoration business is located; as well as performing top-quality restoration and maintenance work on rare and antique aircraft, they have access to the required certifications to work on American-registered aircraft. They had been busy rectifying the previous, failed engine repair as well as completing an annual inspection and all the other required jobs to make Planey fully airworthy again.
As I arrived, Planey was out front with the cowl and old starter motor removed. Rhys, the main aircraft mechanic looking after him, immediately took the new motor from me and got to work fitting it. Just a few minutes later everything was finished, and it was time for me to start up the engine and taxi out for some run-ups before the first flight.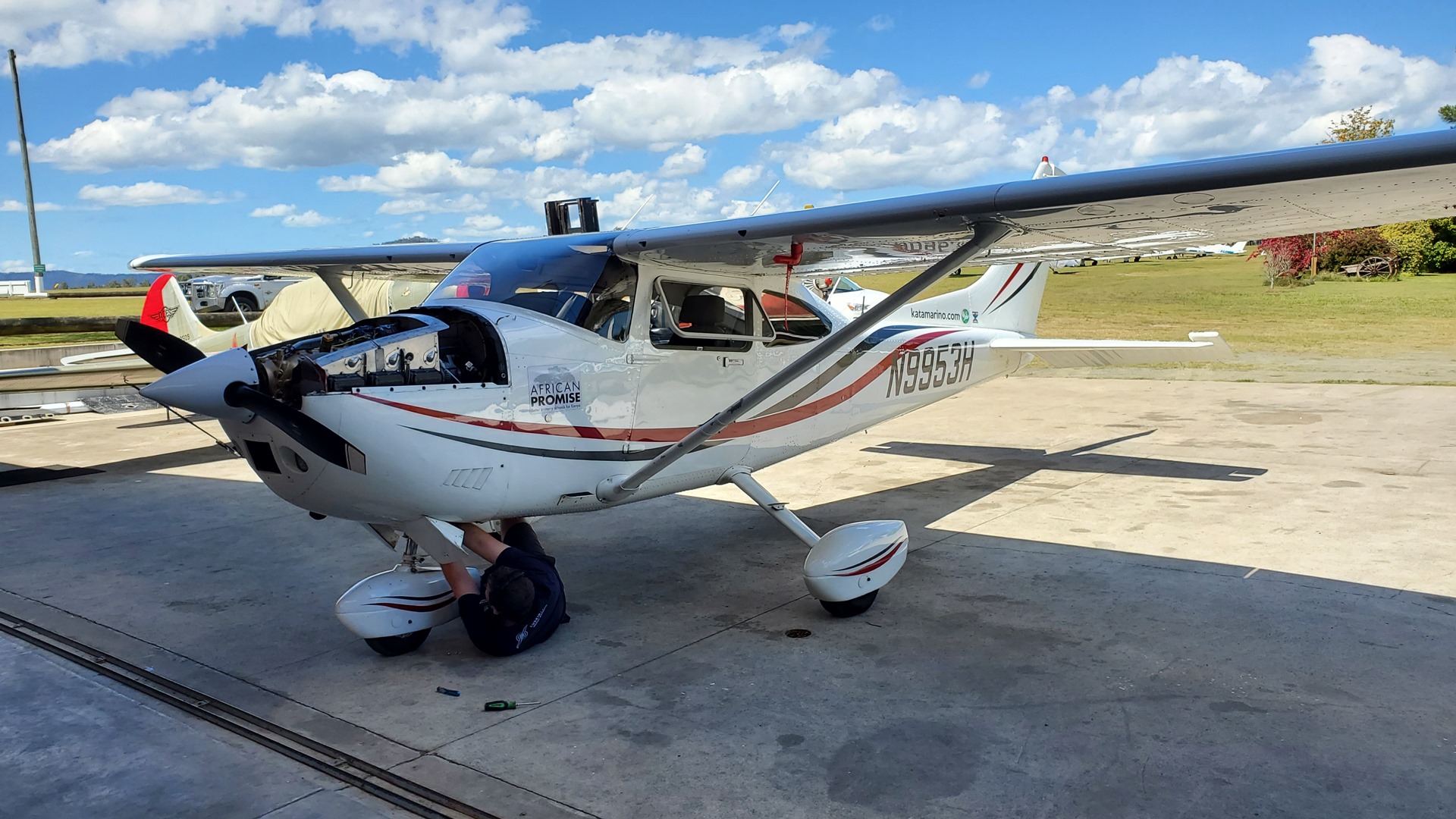 Southeastern Australia had been hammered by continuous heavy rainfall and storms for the past couple of months; and Luskintyre is a grass field. Thankfully the runway is pretty well drained and the past few days had been dry and sunny – Rhys told me that this was pretty much the first day for weeks that it would be possible to operate out of the airfield. First task was some engine run-ups to make sure that everything was running smoothly, and that the propeller speed governor was correctly set, as well as taxiing up and down a couple of times to ensure the brakes, with new brake lines, were working fine. Everything seemed good, so after a slight adjustment to the propeller RPM it was time to fit the upper cowl and go for Planey's first flight in over a year.
It felt great to push the throttle in all the way at last, and roar off down the runway. A little too much roar, as it turned out, as the propeller speed control was still set too high. This was a minor niggle, and did not stop me carrying on for a local flight to begin putting some hours on the engine and properly breaking in the new cylinders. I buzzed around the local area for about 40 minutes carefully monitoring the engine parameters, and always staying close to the field just in case an urgent need to land arose. Everything performed beautifully however, and I was soon coming in to land and park Planey up for the night.
That evening I had the pleasure of eating dinner at the local bowl's club, which my Aunt had paid the princely sum of ~$20 for an annual membership. The place was packed! In honour of my dear Australian friend Ollie I opted for the "Chicken Parmie of the week"; I would come to regret this, as my stomach was unhappy with me for the next few days as a result!
---
The next morning I headed out early to Luskintyre. First though, a stop at Maitland airport to see my friend Gerard who had been looking after Planey and generally giving all kinds of fantastic advice and guidance throughout my time in Australia, right from that night in Birdsville when I was scrambling to find hangar space. I collected a few items of Planey's such as the cover, which had been in his hangar, and checked out another Cessna 182 that Gerard was thinking of buying, before continuing on my way.
When I arrived, Rhys had already finished making the required adjustments to the propeller governor, so it didn't take long before I was able to start Planey up and head out for the next round of engine break-in. I took off, noting that the propeller was now running 100 RPM too slow, and spent a bit of time flying around at high power continuing to bed in the new cylinders and piston rings. I planned a few hours flight today, so a fuel stop was needed. This is especially true because when breaking in a new engine, you need to fly at high power, with a rich mixture and correspondingly high fuel flow; around 20 US Gallons (75 liters) an hour at cruise. Even with 92 gallon main tanks, they empty quickly.
I therefore landed at the nearby Maitland airport to buy fuel from the aero club. I had left the tip tanks untouched until now, but intended to fill them and check the operation of the transfer pumps. However, when draining a fuel sample from these tanks before fueling, I received had something of a surprise; instead of the usual blue colour, the liquid that emerged was bright green. It smelled very strange too. Discussions with the fuel farm operator, and an experienced local instructor, had us all in agreement; leave the tip tanks alone, and check with maintenance. I filled the mains, and headed on my way.
After another period of break-in flying, I landed back at Luskintyre. While Rhys made a final adjustment to the propeller governor, I investigated the tip tank situation. Taking advice from Matt (the owner of Luskintyre Aircraft Restoration) and Rhys, I drained out all of the strange green fuel, and put 5 liters of AVGAS into each side. I then flew up to Tamworth, to continue the engine break-in and also to put a new field in the logbook, dodging a few rain clouds as I went. As I landed, a rain squall was coming in and I had to hurry to refuel the mains before the rain became too heavy, taking progressive taxi instructions from the tower controller to lead me to the pumps.
Just as I finished up the airport operations car arrived. Inside was Len, who welcomed me to Tamworth and let me know that they'd been looking at my website! They very kindly waived the landing fee, and wished me well on my way. I waited a few minutes for the worst of the rain to blow through and headed back to Luskintyre, making sure to waggle the wings as I went and swish the 5 liters of fuel in each tip tank around. Draining this fuel on arrival, all looked good; it was the right colour, and smelled fine! Any contaminants seemed to have been flushed out.
That evening; a takeaway curry and wine at home, and plenty of time to catch up with AJ. Perfect!
---
It was now the weekend, and my goal was to finish getting the first ten hours of flight time on the engine so that I could carry out the first oil change before starting my next lap of Australia on the Monday. AJ and I decided to have some fun at the same time, and so we headed out on the Saturday morning to the rural New South Wales town of Mudgee where a friend of mine (another keen pilot) is a town councilor. He had very kindly offered to collect us and show us around a little.
The flight out took just over an hour, and was smooth. One other aircraft was landing ahead of us, so I extended our downwind leg to give them plenty of space. It had disappeared into a hangar by the time we parked up, and the airport seemed deserted. Happily, it was just a few minutes before Paul showed up and we headed into town.
We stopped first for brunch before heading to the main attraction; Rosby Wines. This winery is a little outside of town and hosts a tasting room, a sculpture garden, and most importantly "The Big Hammer" – the first "Big Thing" of the trip. Rolling up the driveway to the winery, we were greeted by the hammer standing proudly out front; although to be honest, it was rather smaller than expected!
I still had to fly home, and Paul rather disastrously had developed an allergy to wine, so my aunt was the only one in a position to taste any of the product although I did buy a bottle for later. After a wander around the sculpture garden we paused for photos with the hammer and headed back to the airport. The next hop was down to Orange, which boasts reasonably priced fuel and is also the home of a friend of my aunt. He was surprised to get a call asking if he was home because we were flying in, but headed straight out to the airport to pick us up for a quick drink!
As we entered the downwind, we could see a huge number of Cirrus aircraft parked up at one end of the apron and overflowing onto the grass. It turned out that there was a Cirrus safety convention being held. Tony collected us and we headed to a local village pub; out front were parked a couple of motorcycles, and a couple of horses! The advantage of the latter presumably being that they can take you home if you've had too much to drink.
We raced out of Orange as a huge storm bore down from the north, and headed for Sydney. We passed overhead the famous Bathurst motor racing circuit at Mount Panorama before crossing the dramatic cliffs of the Blue Mountains. Our intention was to try and fly the "Harbour Scenic" sightseeing route but we were out of luck; air traffic control stated that they were too busy to let us into the airspace. We contented ourselves with the still excellent views available from just offshore, before turning north and returning to Luskintyre.
---
Until now, I had put a little over 8 flying hours on the engine. I decided to try and get one more hour of break-in flying, so took the opportunity to fly up to the grass field at Gloucester. As I headed towards the entrance to the low-level "inland route" that would lead me north through the military airspace around Newcastle, I head a familiar voice on the radio. Gerard was heading north from Maitland, and invited me to join them in a flight to Port Macquarie. Sadly I had to decline; afternoon plans were already in place!
Gloucester was deserted, so after a short stop I returned to Luskintyre with another hour or so on the engine. Planey was now ready for the first oil change and engine check the following morning, before my departure on the next adventure.
Click here to read the next part of the story.