Round the World – New Zealand 2, Part 4
Round the World – New Zealand 2, Part 4
I had to head back to Auckland to finalise some paperwork for the aircraft. This was a bit inconvenient, but at least New Zealand is not too huge a country to fly the length of, and the trip could be completed in just a few hours. I took an "Uber" out to Air Milford, where I chatted for a while with Ant and the others about the current weather conditions. It was blowing hard from the west, condition which cause heavy turbulence downwind of the mountains. Ant phoned up the tower to get a report from an Airbus which had recently flown through it; they said they'd been shaken around a bit. After some discussion I elected to take a short flight to Alexandra, and refuel there, to see how conditions were. If too bad, I'd wait there for the night. Going out of Queenstown light on fuel would give me better performance to handle downdrafts.
As I taxied out, I had a bit of a chat with tower. Things were quiet, but were not going to stay that way; they informed me that an extra 8 airline flights from Auckland were expected that day alone. This was the first day that the Auckland travel restriction had been lifted, so it was probably a good time to be leaving!
The flight to Alexandra was smoother than expected, with mostly light to moderate turbulence; although once or twice I was hammered by enormous bumps that sent anything not secure floating into the air. Once I descended to circuit altitude and below, things became much better, with a strong but smooth wind straight down the runway. This made for a short ground roll on landing, and I taxied to the fuel pump and phoned the aero club president who had kindly offered to come and help me refuel, given my lack of fuel card. He was quickly on scene, and we chatted as I filled up the tanks ready for the longer flight.
Climb out was somewhat tedious, being mostly into the wind and under the influence of regular downdrafts. At one point I turned fully into wind, curious to see how low my groundspeed could get; down into the high 30s, was the answer! Thankfully, once I finally reached my cruising altitude of 12,500ft, the air smoothed out and reasonable speeds returned. I floated over the mountains of the Southern Alps, on autopilot, on a straight line course for Auckland.
The engine didn't miss a beat as I crossed over one of the wider sections of the Cook Straight, with Mt Taranaki coming into view ahead. The base was surrounded by cloud, but the majority of the peak was in clear view, still covered in winter's snows. As always, I breathed a little easier once I was back within gliding distance of shore. Approach and landing at Ardmore was uneventful.
I returned to stay with Ninette and Robbie, my usual AirBNB hosts whenever I was in the area. A South African couple now resident in New Zealand, they were always friendly and welcoming and had even invited me to leave
---
It was only a few day's stop in Auckland, to finalise some paperwork and final maintenance tasks on the airplane; as much as any maintenance is ever really final, as it seems like every time you fix one minor issue, another shows up! I took the opportunity to fly over to North Shore airport, and meet up with an FAA rated instructor by the name of Santiago, to complete my 2-yearly flight review and keep my licence current.
The flight review was fairly routine, consisting of an hour's ground review on regulations, and an hours flying to demonstrate whatever the instructor requested such as stalls, steep turns, and emergency landings. I returned Santiago to North Shore, and set straight back out again; my destination this time being the city of New Plymouth.
There was a strong headwind along the route, but the flying was smooth as the wind was coming over the water, instead of tumbling over hills. There was about a 30kt crosswind for the main runway at New Plymouth, so the control tower brought me in on the grass cross-runway, and directed me to a set of tie-downs to secure the aircraft. I felt a lot happier having it firmly attached to the ground, instead of just sitting out, given the conditions!
I spent two nights in New Plymouth. On my day off from flying, I drove out to Mt Taranaki (also known as Mt Egmont) and the national park which surrounds it. The summit of Taranaki sits well below the highest mountains in New Zealand, at 8,260 feet, but it it particularly striking for how it rise out of a flat, sea level plain without any other peaks around it. The mountain has recently been made a "legal personality" after an agreement between the local Maori and the New Zealand government.
I started my day at the Dawson Falls, on the southeast side of the volcano. After parking at the visitor center, I took a short walk back down the road to where the waterfall trail begins. From here, it's a short trail through the bush to the falls themselves; the main trail offers great panoramic views of the falls, but there's also a set of steps down to the base. At the time of my visit these were in pretty poor shape, with a lot of erosion and missing sections, but a survey team were there taking measurements for a planned replacement.
After Dawson Falls, I drove back down the slope of the volcano, and headed back around anti-clockwise towards the Manganui ski area. No skiing was to be had today, given the lack of snow, but the drive up offered excellent views as well as being along an interesting road with plenty of steep sections and switchbacks. The views from the top, out towards New Plymouth, were well worth the trip. It was starting to cloud over, so I made my way on the mountain and stopped at the Stratford Mountain House for a late lunch, before returning to New Plymouth. Luckily, the clouds cleared again as I went, allowing some decent photographs of Taranaki!
---
I had planned departure from New Plymouth for the afternoon of my final day, which gave me some time to look around the city a little during the morning. The city has a population of a little less than 60,000, and is renowned for its beautiful gardens; indeed, gardens make up many of the top suggested "things to do" for tourists. I started the morning with a walk along the sea front pathway, before heading to the central Pukekara Park and Gardens to explore.
Pukekara park is huge, covering 52 hectares, and is home to a wide range of both native and exotic plants as well as a first class cricket ground. The cricket ground is situated near one of the main gates, and is surrounded on three sides by high banks, forming an amphitheater arrangement. Continuing further into the park one comes across a large lake complete with man-made waterfall, bridges, and boats for rent.
Elsewhere in the park are other features, such as a large event stage, and specialist garden such as a rhododendron collection. Unfortunately I was not there at the right time to see them in flower! Walk in the park complete, I spent the rest of the afternoon exploring a nearby walking trail, as well as taking a walk through the town center; which among other architectural curiosities includes a highly mirrored museum!
My first flight out of New Plymouth was a short hop to Hawera, just to the southeast of Mt Taranaki. I was stopping at this airport to collect Jan, a lady who had sent me a message through a ride-sharing group on Facebook to ask if she could come with me to Nelson, to get home after visiting some family. She was waiting for me as I taxied in; and the president of the aero club also happened to have stopped in, and came over for a chat. Before long though, we had donned our lifejackets and were on our way.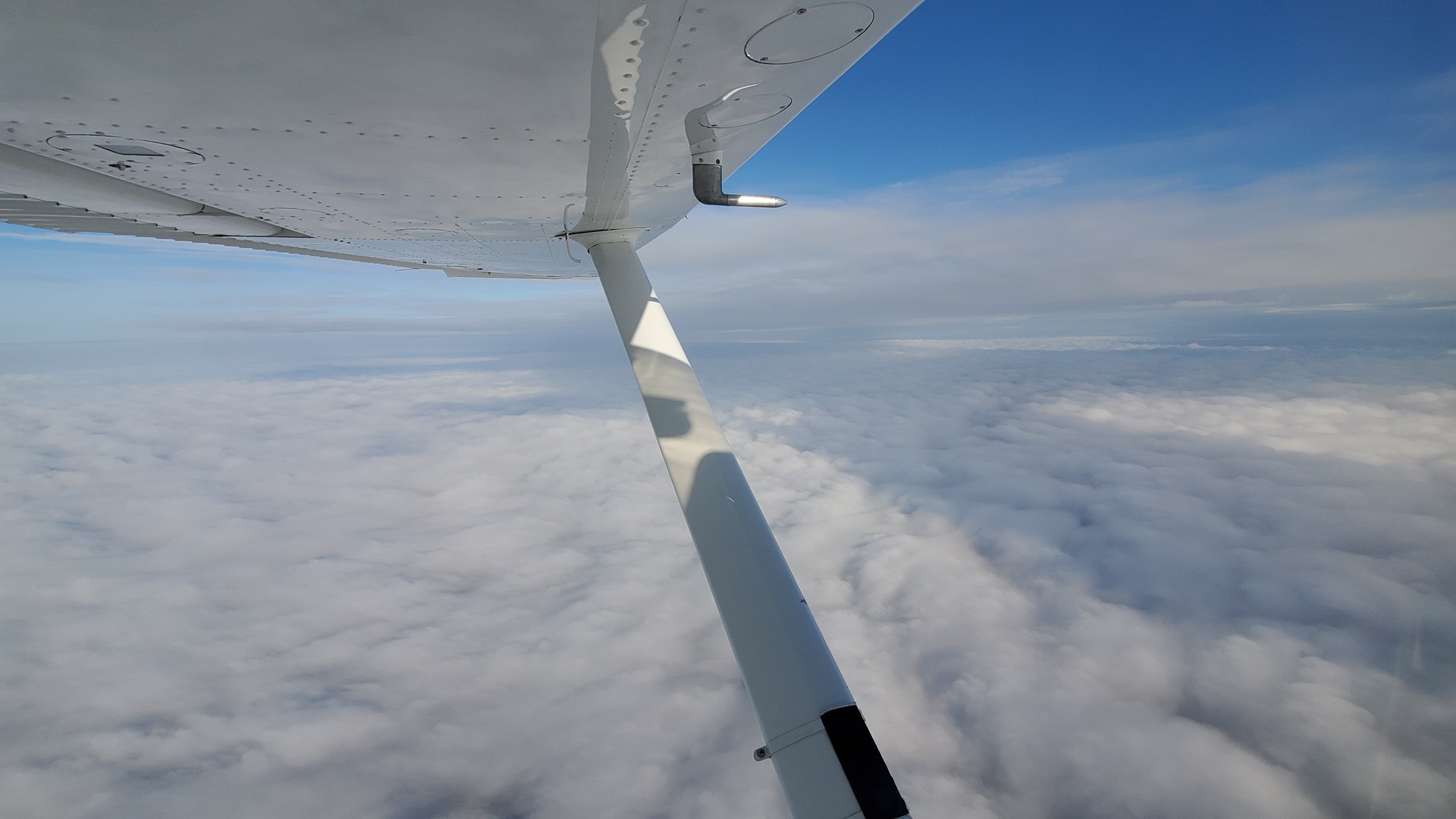 We took a direct route from Hawera to Nelson. There was cloud cover over the majority of the Cook Straight, although we caught sight of one of the oil platforms through a gap as we passed over. Descent and landing into Nelson were straightforward, with little other traffic around, and my rental car was waiting for me next to the parking area with the keys hidden away ready for collection. I dropped Jan at her home, and drove back to the home of Kevin and Shelley who were kindly putting me up again for this second, longer stay in the sunniest part of New Zealand.
Click here to read the next part of the story.