Round the World – New Zealand Day 23
Round the World – New Zealand Day 23
It was going to be a very long day of flying; we'd decided to condense two days into one, so that we could later spend 2 nights in Christchurch rather than moving on every day. After an excellent breakfast prepared by Noel, we caught a taxi to the airport and headed out from Invercargill. Our first course was south, towards Stewart Island and the most southerly stop of the entire round-the-world trip. Having come this far south, I couldn't resist the temptation to hop over and land there; and there was also a town I was keen to visit!
Stewart Island is served by one airline, and most of their flights take place first thing in the morning, or late in the afternoon. They gave us the all-clear to go in and land after their morning flights were done. It was a short flight over the Foveaux Strait, and we overflew the airfield to check conditions before entering a left downwind over the town to land. We gave the usual traffic calls, and the Stewart Island Flights base responded and let us know that they were on their way to pick us up!
Not long after landing, a gentleman showed up in a van and gave us a ride back to town. He was a pilot for Stewart Island Flights, and filled us in about what it was like to operate flights to and from the island, as well as to several of the beaches around the island when conditions were right. They'd flown a number of walkers out to various beaches just that morning. He dropped us at the company base, and gave us a few pointers on what to see around the town.
The main town on Stewart Island is called Oban. After visiting the Scottish town of Oban 9 months earlier with my father, during the first section of the flight, there was some satisfaction in coming to visit the other Oban on almost completely the opposite side of the globe! The New Zealand Oban seems to be even smaller than the Scottish version, which happily means that it's very easy to walk around. We started off our visit with a walk along the seafront to the visitor center. From here we started back, and met up with a Canadian visitor; his daughter had met a man on Stewart Island while travelling, and he was now here for their wedding! He gave us a few more suggestions of where to go, and we parted ways.
We next wandered down main street, and dropped into the Kiwi-French Crepery looking forward to a second breakfast! "Oh" came the reply when I ordered our desired food, "we're not doing crepes". This was something of a surprise and seemed to rather limit their repertoire, but options in Oban were limited so we made do with a chocolate brownie and a hot chocolate.
Our next stop was the town museum, which was rather limited but did offer a few glimpses into the history of the island and was certainly worth a visit. We stopped off on our way from here at the island fish and chip shop, which had been highly recommended by everyone we spoke to, and we were not disappointed! Brunch complete, we returned to the Stewart Island Flights office and the lady there drove us back to the aircraft. Time to move on!
We took off from Ryan's Creek airfield, and decided to head across the island for some sight seeing. First stop was Mason Bay, where Stewart Island Flights had apparently dropped people off that morning and indeed we saw various hikers on the beach. We carried on low level around to Doughboy Bay, another place that aircraft sometimes land, before continuing south towards the very tip of the island. We wanted to see the very southern tip of the "main" part of New Zealand (we decided the Auckland Islands are too far out to count!)
The southern tip of Stewart Island was just as rugged and desolate as we had anticipated. No trails, roads, or other signs of human habitation were evident. As we turned around the southern point, off our right wingtip there was nothing of any substance (sorry, Auckland Islands) between us and the Antarctic. That, however, must be saved for a future flying adventure…
We headed back up the eastern side of Stewart Island, passing over multiple fish farming facilities on our way back to the Foveaux Strait. We passed just east of Oban, and over Ruapuke island as we crossed back to the mainland, headed on a direct track towards Dunedin. We were not far inland, however, before I suddenly remembered a recommendation that I'd recently received from my friend Hannah (of "USA: Coast to Coast" and "USA: Southwest" fame). She was on holiday with her family in New Zealand at the same time as us, and had stumbled upon an excellent aviation museum at Mandeville. I let ATC know of our destination change, and phoned Mandeville using the Bluetooth function of the audio panel to get permission to stop in.
Mandeville has a lovely grass runway, with no other traffic as we came in and landed. As we taxied in, a large group of school children in high visibility jackets paraded over towards us and waved as we parked. It turned out they were going to visit the building that we parked next to, which was the hangar where the aircraft restorations were carried out. We followed them in and had a look around. The work in progress was impressive, with full rebuilds down to the original structure and beyond.
After visiting the workshop, we stopped in the cafe for a drink and an ice cream, before heading to the museum. The museum is focused around the de Havilland aircraft company, and is small but extremely interesting. Most of the aircraft there are operational, flying models. While we were there, a Tiger Moth came back in from a flight with a tourist, who was effusive about the experience! We finished looking around the aircraft, and headed back to the 182. Next stop, Dunedin.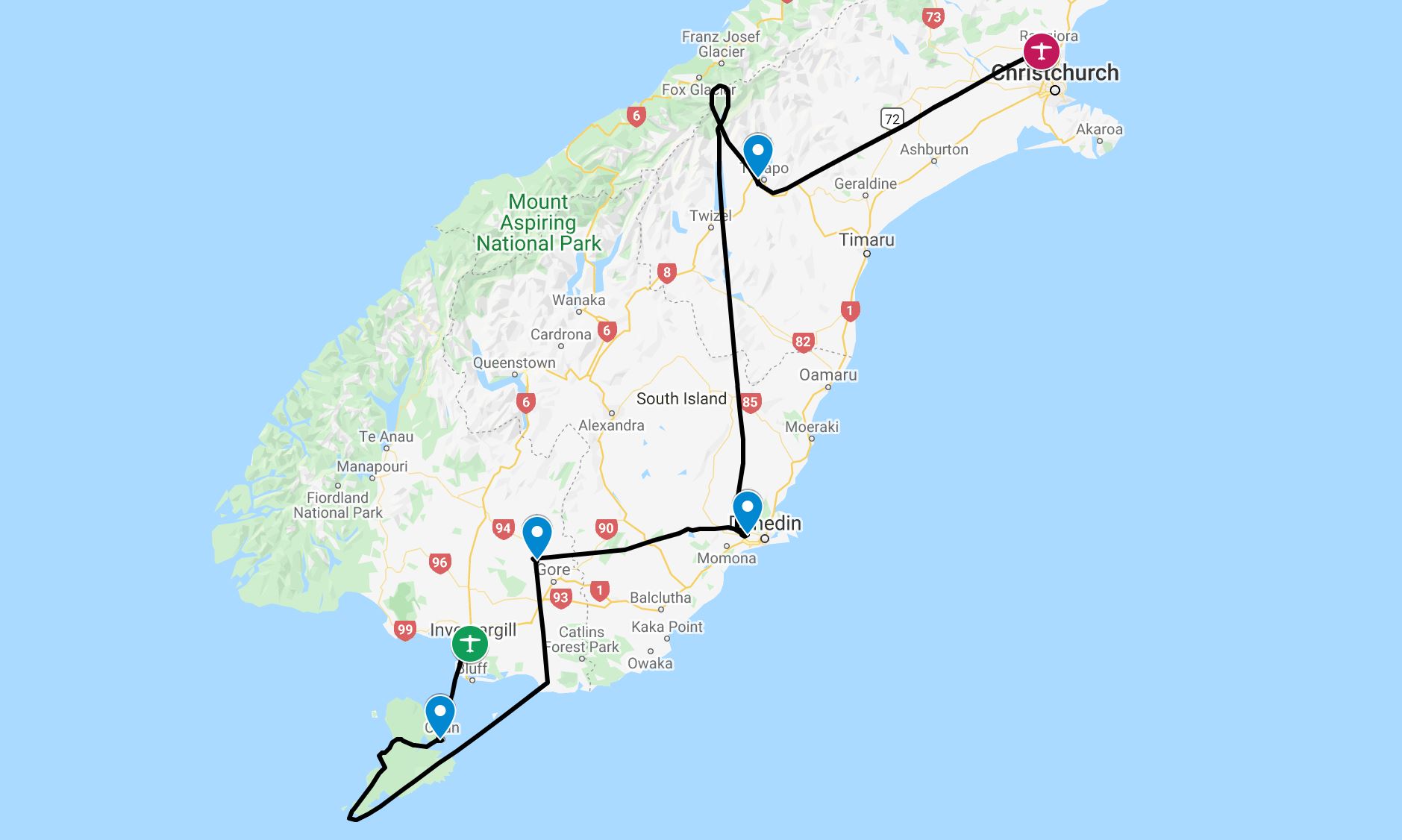 We had originally planned to stop in Dunedin for a night, to visit Larnach Castle. The plan had been reworked, to allow for an extra night in Christchurch; only spending one night in every stop over the last week was fast paced, and was getting a bit tiring. We decided to still fly over to Dunedin anyway, to stop for some fuel and fly over to see the castle from the air. The flight from Mandeville was pretty short, but a little bumpy; winds were starting to build up, and there wasn't much point in flying high on a leg of this length.
We decided to stop at Taieri airport, which is fairly close to the main Dunedin airport and requires adherence to low level VFR corridors for arrival and departure to avoid busting controlled airspace. As we came in from the north, we were sandwiched between the floor of controlled airspace and a ridge of high ground below us; it almost felt like we'd have to fly underneath the power lines! We entered the traffic pattern at Taieri, and touched down to the east on the large grass runway, shutting down at the fuel pumps. The flying club lent us their fuel card, and the people in there had even heard about the flight and been following us on Facebook, which was nice to hear!
We didn't stay long, just enough to put some fuel in the mains, and we were off again. We followed an autogyro along the taxiway to the end of the runway, and he waved us past to take off ahead of him as he seemed to be carrying out some very slow and deliberate pre-flight checks. It seemed to be a flying lesson in progress, and it was considerate of them to notice us in line behind! We took off and headed north; I was feeling a little pressured for time at this point, and completely forgot about Larnach Castle until it was too late. Oh well, that can be saved for a future trip!
We had one important destination before reaching Christchurch; Mt Cook, the highest mountain in New Zealand. I'd never really had a proper look at it, but today the weather conditions across the South Island were great, and I was excited to finally see it up close! As we cruised up the island on autopilot, Elsa napped, and I reviewed the Mt Cook flight procedures and gradually climbed up to about 12,000ft. I didn't want to get in the way of the commercial sight-seeing flights that would doubtless be buzzing around.
Hydropower installations were clearly visible on some of the large lakes we passed over on our way north. More than 80% of New Zealand's electricity comes from renewable sources, being blessed with plenty of opportunities for hydroelectric and geothermal generation. We flew up Lake Pukaki towards Mt Cook, marveling at the stunning views; the weather could hardly have been better for us! We followed a circuit anti-clockwise around the mountain; up the Tasman Glacier and then around over the Franz Josef and Fox, before heading south again. It was great to see the Franz Josef and Fox glaciers properly, after they'd hidden from us on our flight south!
We descended hard from Mt Cook, and headed for Tekapo airfield. This is the main home of Air Safaris and they had offered to welcome us and help us out with refueling. As we landed and taxied in the airfield was a hive of activity, clearly most of the day's flights had just landed and aircraft were busily being serviced and put away. One of the pilots noticed us coming, and pushed an Airvan out of the way so that we could taxi up to the fuel pump.
The Air Safari team had been following the trip, and were extremely friendly and welcoming. We were quickly refueled, and chatted for a while before it was time to be on our way again; although not before picking up a souvenir shirt, having now landed at both of their airfields! We waited for a Cessna 180 to land, and then headed out to the north on our final flight of the day, to Christchurch.
A well known New Zealand aviator, Bruce Drake, had seen our posts online and invited us to fly in and stay at his private airstrip, a little north of Christchurch. We had jumped at the opportunity and were now on our way to his home of Barradale. The plains east of the Alps spread out like a patchwork of fields and farms as we slowly descended to remain clear of Christchurch airspace, crossing a couple of large silt-packed rivers bringing down meltwater from the mountains. I followed the land marks in towards Barradale and was pleased to see it exactly where we'd expected; I flew a right downwind to runway 06 to keep clear of another private strip to the north, completely misjudged my base turn and overshot final, but managed to get stabilised and bring it in to land anyway. 0 points for style.
We parked the airplane up against Bruce's hangar while he and his wife gave us a tour of the house, showed us our accommodation in their amazing guest suite, and then lent us a car to head into town. They could not have been kinder! That evening we met my aunt and father in the city center and took him out for an Indian meal to celebrate his wedding anniversary.
Click here to read the next part of the story.